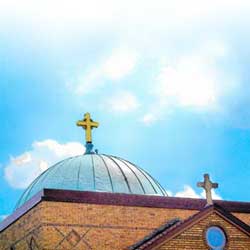 "Welcome one another, therefore, just as Christ has welcomed you, for the glory of God." - Romans 15:7
Annunciation Greek Orthodox Church has been serving the Decatur area since 1927. As the first Orthodox Christian parish in Central Illinois, we are committed to placing Jesus Christ our Lord and Savior first in our daily lives. Our faith is firmly rooted in the teaching of Holy Scripture and the unchanging Christian witness of the Ancient Church. Please feel welcome to join us for worship this Sunday!
---
Services Schedule
Sundays: Orthros (Matins): 9:15 AM | Divine Liturgy: 10:00 AM
For information on our Lenten and Holy Week services please contact the Church office at 217-429-7023
---
Upcoming Events
Saint Katherine the Great Martyr
Wednesday, November 25
Orthros
Sunday, November 29 9:15 am
Divine Liturgy
Sunday, November 29 10 am
Saint Andrew the Apostle
Monday, November 30
Saint Nicholas the Wonderworker
Sunday, December 6
Orthros
Sunday, December 6 9:15 am
Divine Liturgy
Sunday, December 6 10 am
Online Chapel

Getting to Know God
And this is eternal life, that they know You the only true God, and Jesus Christ whom You have sent. — John 17:3
In Greek, the sense that is most closely associated with the verb to know is sight. This is quite familiar to those of us who have grown up within Western culture. We believe what we can see; however, the verb to know in Hebrew is primarily associated with hearing.
Therefore, the Orthodox Church has a holistic understanding of how one gets to know God. Our worship engages all of the senses so that no matter what the physical or mental capabilities of the worshipper happen to be, they can come to know God in their own unique and unrepeatable way.
Our faith demands that each human person — no matter the age, sex, mental or physical capacity, ethnic background or culture — should not only be acknowledged as capable of worshipping and knowing God, but that they are valuable.
We, therefore, would like to warmly welcome anyone to come to experience the ancient faith of Orthodox Christianity and come to know God and Jesus Christ whom He sent.